Sac Junk  is a Junk Removal Service & Hauling company, servicing clients throughout Sacramento and surrounding areas.
With our quick response and hassle free pick-up, getting rid of your accumulated clutter has never been easier!
The process…it's simple like 1-2-3!
You show us exactly what you need removed.
Our knowlegable staff will provide you with an exact quote and thoroughly explain our pricing before any work begins.
We lift, haul and load your items onto the truck and sweep the site thoroughly, if needed. Payment is processed, a receipt is given and your items are then transported to the appropriate facility for proper disposal.
Eco Friendly junk removal….that's our business!
Appliance, electronics, computers, soil, and even used tires are just a few items we collect and recycle in the most eco-friendly manner.
Used furniture, books, clothing, toys and other household items are donated to local charities across the city.
Materials such as bricks, lumber, old doors and counter tops are delivered to organizations, like Habitat for Humanity, to be put to good use!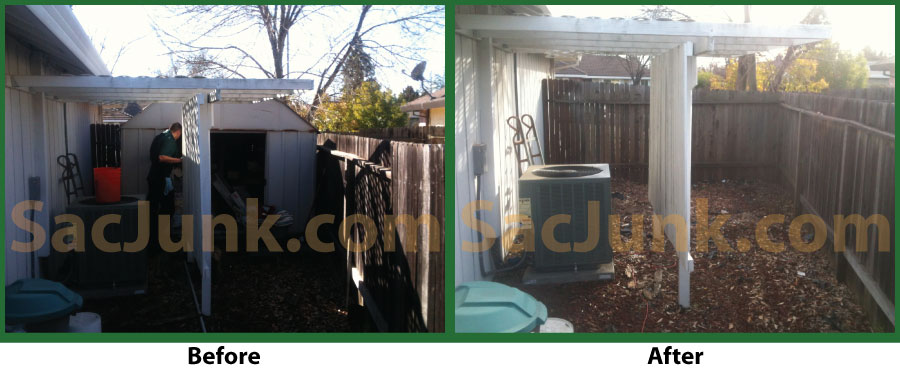 No matter how big or small the items are, Sac Junk can help you unclutter your home, create new space and bring order in to your life. So, if you've got junk accumulating in your basement, attic, backyard or office and not sure how to get rid of it, call us today or book your junk pick-up appointment online and experience for yourself why we are Sacramento's fastest growing environmentally-friendly junk removal Service.
Estate Cleanout Specialists
Whether you have the daunting task of emptying a deceased relative's home or apartment or your relative is simply moving out of their home to an assisted living facility, we can take on the task of sorting and removing the junk they left behind and get it done quickly. We know how to work through the ordeal quickly by working with you and helping with identification and sorting of the junk to be removed from sellable items, and disposing of / recycling the junk items expeditiously. We have expert appraisers that can identify valuable items for possible sale or donation.
 Junk Removal Service